THE SECRET MOVIE is site specific performance art and social critique, examining the connection between the ideologically aestheticized cityscape and our collective relationship with the cult of celebrity and the movie industry. THE SECRET MOVIE suggests that contemporary life has transformed collective experience into a series of fragmented and privatized events where the cameras are always rolling, the lights are always on, and the hero could be you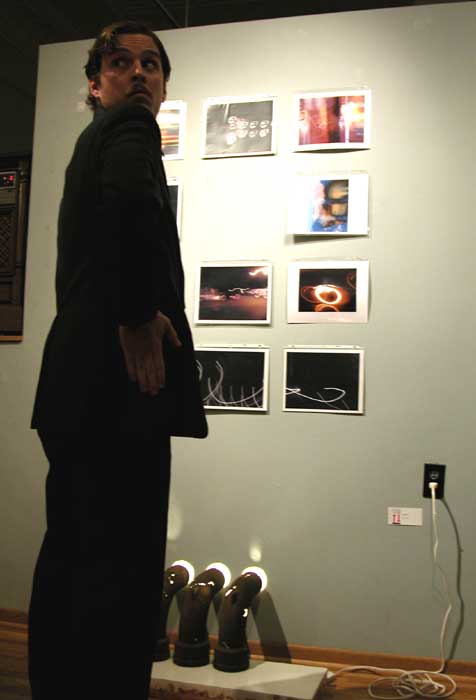 THE SECRET MOVIE was performed as part of the opening of ...
The Mayor of Uptown:
Under the coolness of CENTRAL AIR, former co-founder and co-curator of Radiator Art Exhibition Company, John Page Corrigan, curates a brief showing of exceptionally diverse and astute visual artists. From
flower arrangements, lighting design, furniture, jewelry, performance art, the medium of paint and collage, and through photographic allure.The Mayor of Uptown, might reflect on the changing nature of attitudes
and architecture of the Uptown neighborhood.The Mayor of Uptown, may connect a variety of south Minneapolis artists that crave a voice in the insular Minneapolis art community.

The Mayor of Uptown, will offer artistic variance of similarly like-minded artists with the chance to run a visual campaign in the center of historic Uptown Minneapolis.
February 10th through 26th
Artist Reception
Friday 18 February, 2005
6-11 pm

GALLERY HOURS:
Thur. and Fri. 1–7 pm
Sat. and Sun. 1–6 pm

IN THE OLD LOBBY OF
THE CALHOUN HOTEL
1428 WEST 31ST ST.
Call 612.703.5444
Featurimg the work of:

John Diebel
John Urste
Dan Keefe
George Mahoney
David Foley
Michael & Abigail Mouw
Robert Roscoe
Terence P. Brashear
Flaneur Productions
John Veda
Nissa Hagstrom
Signe Albertson
Terrence Payne
Stacey Meyer
Jon Nelson
Clea Feline
Kate Pabst
Alissa Valdovinos
SPACE GENEROUSLY DONATED BY
Lucia's Restaurant and Wine Bar

CURATED AND DESIGNED BY
John Page Corrigan
NovaClutch Typographic Annex
612.703.5444